Via varanasi is located in the assi ghat region , the most unique beautiful and poetic part of the city – which makes our guests to simply walk out of the front door and explore .
We don't forget to celebrate the local flavour which is silently felt in each of our mini suites through theme based original paintings , murals and sculptures from renowned artists .
We at via varanasi are here to ensure that each of our guest's stay is as personalized and humanized as possible and hence we offer our guests their very own personal attendant and a dedicated chef to take care of all those meals .
Via varanasi is part of its city – and not a separate entity and so all our services revolve around you !
The southern most ghat of varanasi is assi ghat. it's the place where long-term foreign students, researchers, and tourists check-in. Mornings in assi is an unforgettable experience subah – e – Banaras, the early morning aarti (one of a kind in the city) will provoke the inner you to stand quietly and take it all in. Evenings are particularly lively – the ghat gets filled up with hawkers and entertainers. visitors can go for boat rides, go up a hot air balloon for an aerial view.
There's also music and yoga at sunrise and sunsets to cherish – even a walk along the various Varanasi ghats is full filling and fascinating.
It's the Assi ghat where the famous Indian poet/saint Tulsi Das had written the much-celebrated "Ramayana".
Arguably the most significant ghat in Varanasi – one that is easily accessible by road .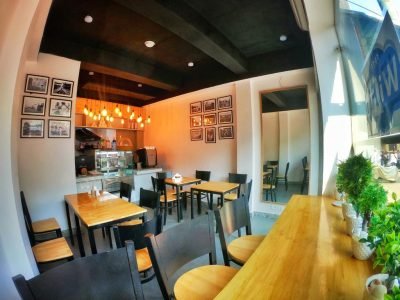 Mostly the best cafes are all small and boutique in nature ,
café café is no different in that aspect accept its also not the usual coffee shop you would come across in varanasi .
Its made with a lot of heart and offers unique taste and ambience
Some quick bites and meals – and then there's coffee (of all kinds )
Come and experience it , you are going to love it .
Lets just say café café completes via varanasi .